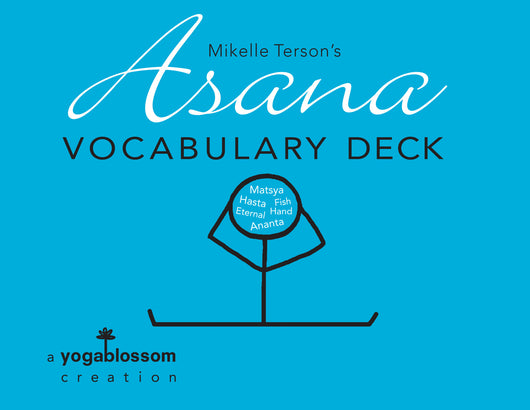 ASANA VOCABULARY DECK
Regular price $ 25.00 Sale
Memorize Sanskrit words used in yoga postures and their correct pronunciations.
Don't know your Parivritta from your Paripurna? Or how to say them even? One of the best ways to learn the names of postures is to learn the words contained within each posture, their meanings and pronunciations. Mikelle worked with Vyaas Houston, of the American Sanskrit Institute, one of America's foremost authorities on Sanskrit, to get the correct pronunciations. She developed an easy system of phonetics so you can learn to say the Sanskrit words correctly-- quickly and simply.
Vocabulary deck includes 94 cards. Cards are- Size: 3.5" X 5" , two sided, with special UV coating.
Although this deck can certainly be used independantly, the vocabulary deck was designed to be a companion to the Asana Learning Deck.  By isolating the individual sanskrit words used within the postures, learning the names is much easier and faster.