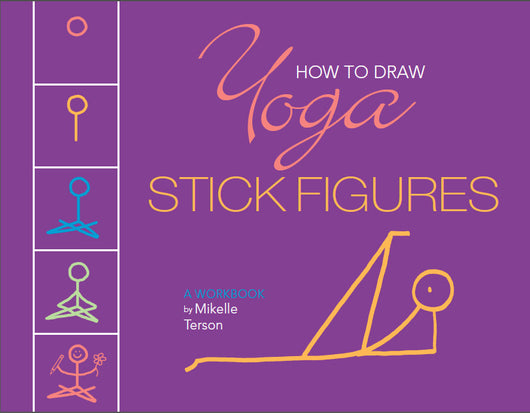 HOW TO DRAW YOGA STICK FIGURES- a workbook by Mikelle Terson DUE IN LATE SPRING
Regular price $ 35.00 Sale
HOW TO DRAW YOGA STICK FIGURES is a workbook that teaches how to represent yoga postures as stick figures. 
At many yoga conferences or training programs, master teachers put their practice up on boards for people to copy down. While attending various conferences, Mikelle noticed that quite a few students would get frustrated and tense because they had trouble drawing the stick figures. On several occasions, students noticed her notes and sat next to her to see how she drew them. One day, she joked that she would write a book to teach them.  And she did just that!  This book has sold all over the world and has become a staple of many yoga training programs.
Page numbers in the book, match the card numbers of the Asana Learning Deck so you can use them together.
 "Art, like morality, consists in drawing the line somewhere."
G.K. Chesterton  English novelist, poet.
 "I love this book.  I recommend it for my teacher trainees to help them learn how to illustrate a Yoga sequence.  It's simple, straightforward, and it has got lots of valuable information between the sticks."  Rod Stryker, Master teacher, creator of Para Yoga
 "Two Mudras up!  Mikelle's book starts off as a "how to draw book", but in the process, it becomes something more:  a code of symbolic grammar for yogis to express themselves.  She has done something unique by establishing rules for quickly and unambiguously communicating postures."  Tom Gilette, owner of Eyes of the World yoga studio, Providence, RI.
 "This book is destined to be a standard text in every yogi's library."  Brian Fulp, Himalayan Institute